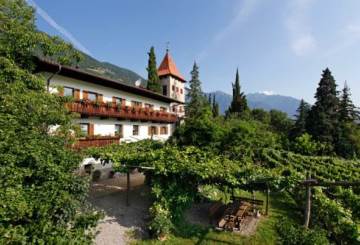 Wine of God
The origin of the winegrowing here was for the church
Wine may not be the drink of the gods, but it is always the drink of the church. And that also becomes clear through the history of the Biedermannhof in Cermes. For centuries, it was in the possession of various convents and monasteries and provided them with their wine for mass. Today, fruity white wines and full-bodied red wines come from its winery.

For more than two hundred years, the Biedermannhof in Cermes has been in the possession of the Innerhofer family, and today it is Hannes Innerhofer who runs the winegrowing operation with its deep roots. The farm was already mentioned in a document as early as the fourteenth century; as property of the convent of the order of St. Clare in Merano. The estate winery then changed owners again and again, although the proprietors always remained convents and monasteries to which the Biedermannhof provided their drinking and mass wine.

Today, the ecclesiastical sales channel has run dry, and the Biedermannhof in Cermes has turned into a normal private estate winery. One in which great value is placed upon maintaining the biological balance in the vineyard. "Planting greenery between the rows of grapevines helps, for instance, to regulate the air and water balance in the soil, to promote the formation of humus, and to protect against erosion, and it is a welcome habitat for beneficial insects," Hannes Innerhofer explains.

This method of management, along with the sedimentary soils, the southeastern exposure of the vineyards, and the relatively low elevation (350 meters), leaves its traces in the wines of the Biedermannhof. Thus the white wines are fruity and mineral-rich, while the red wines present themselves as deep and full-bodied.
Are the centuries of divine presence to be thanked for that? God only knows...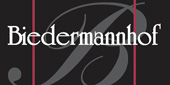 "Planting greenery between the rows of grapevines helps to regulate the air and water balance in the soil, to promote the formation of humus, and to protect against erosion, and it is a welcome habitat for beneficial insects."
Hannes Innerhofer, winegrower at the Biedermannhof
Cultivated wines
Lagrein
Weißburgunder
Vernatsch
Goldmuskateller
Merlot