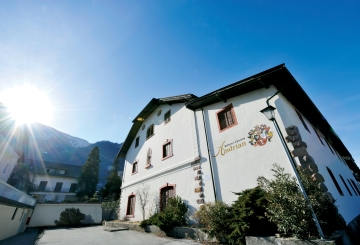 The First Cooperative
The oldest cooperative winery in Alto Adige
Mutual assistance: the idea of the cooperative had broad repercussions at the end of the nineteenth century and also caught up the winegrowers on Andriano. In 1893, they took a step that was as daring as it was far-sighted and founded the first cooperative winery in South Tyrol. Today, the winery works under the umbrella of the Cantina Terlano, and thus the cooperative idea is as lively as ever.

Even if the cooperative's history is a long one, that of winegrowing in Andriano is even substantially longer. The Mediterranean climate, the refreshing katabatic winds, the well-aerated chalky soils: all of these are optimal conditions, and specifically equally for both red and white varieties. "On the gentle southern to southeastern slopes of Andriano, the late-maturing varieties enjoy a particularly high number of hours of sunshine, while on hot days, our white grapes on the slopes with a predominantly eastern exposure benefit from the coolness that is present early in the day," explains winemaker Rudi Kofler.

From this starting position and building upon careful, prudent work in the vineyard, grapes that have been harvested exclusively by hand come to the cooperative's winery. That is where the red wines – Lagrein, Merlot, and Pinot Noit – are aged in large oak barrels or small oak casks, while the whites (Sauvignon Blanc, Chardonnay, Pinot Grigio, and Pinot Blanc) are aged in stainless steel tanks.

"Our goal is to create classic wines that are shaped by terroir, that are powerful yet elegant, well structured, and multilayered," the winemaker says. Directed toward that goal are the efforts and work of all involved – completely in keeping with the idea of the cooperative.

"Our goal is to create classic wines that are shaped by terroir, that are powerful yet elegant, strongly structured, and multilayered."
Rudi Kofler, winemaker at the Andriano Winery
Cultivated wines
Lagrein
Blauburgunder
Müller Thurgau
Chardonnay
Weißburgunder
Vernatsch
Gewürztraminer
Sauvignon Blanc
Merlot
Pinot Grigio
Monday; Tuesday; Thursday; Friday: 9 -12 a.m. and 2 - 6 p.m.

Wednesday: 9 a.m. - 12.30 p.m. and 2.30 - 6 p.m

Saturday: 9 -12 a.m

Vincerdetail.PartnerUS
Banville & Jones Wine Merchants