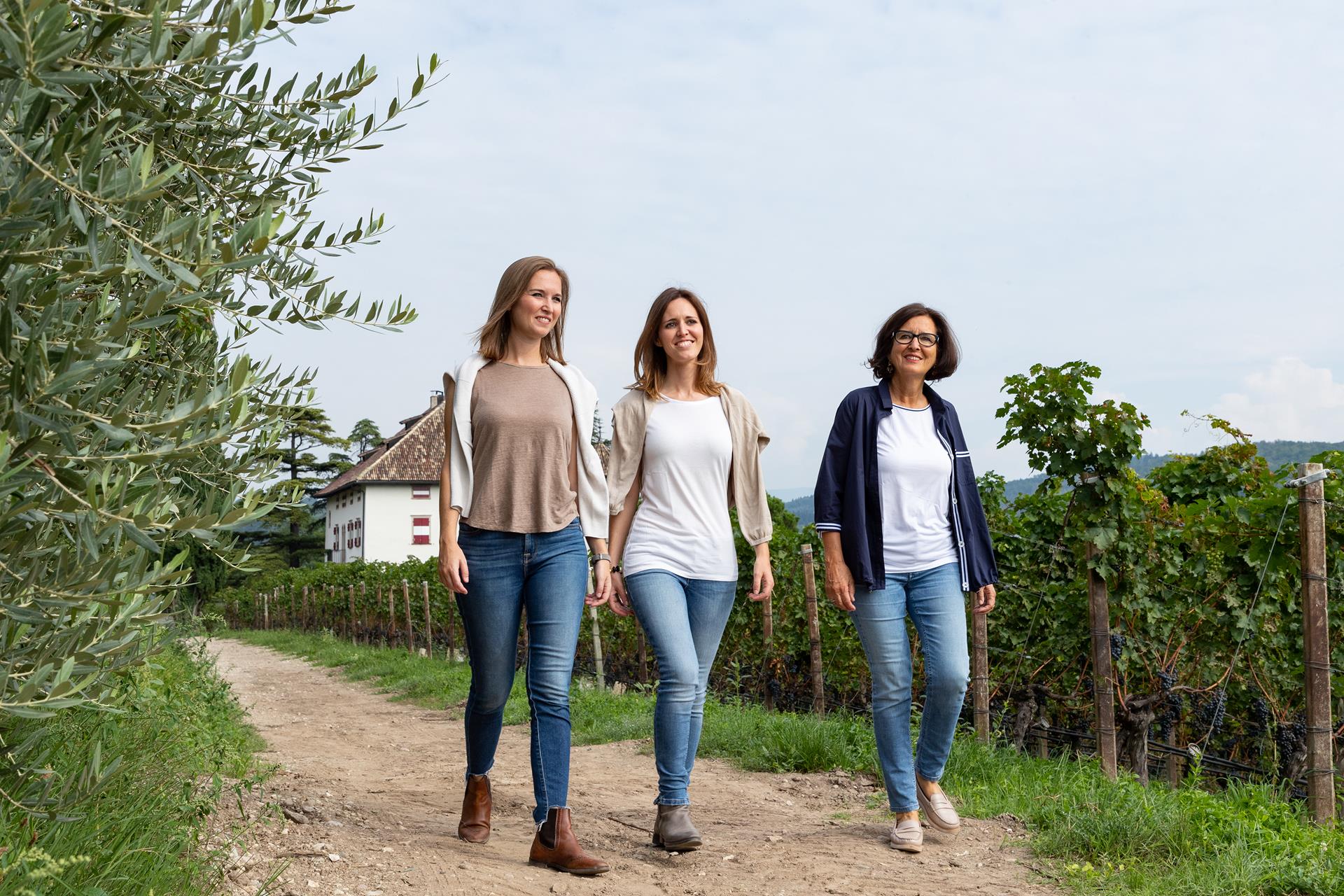 The Wine Architect
Family estate winery with international radiance
Elena Walch is actually an architect, but in the 1980s, when she married into the Walch winegrowing family in Termeno, wine became the main focus of her life. Since that time, it has been with commitment, self-confidence, and no compromise that she has implemented her ideas of sustainability in the vineyard and the winery and developed her terroir wines.

Even though Walch crossed over from a sector that was distant from wine, she soon became a forerunner and a pioneer of a wine philosophy which, forty years ago, was still broadly new. Quality became her guiding idea, and it was to be pursued without compromise: "With the finest terroir wines, we raised the quality standards of the region to a new level," she says today, with self-confidence. And that is also attested to by independent experts. Thus the terroir wines of the two single vineyards of her estate winery – Castel Ringberg in Caldaro and Kastelaz in Termeno – are highly respected products that have received numerous awards and have found their place on the best wine lists around the globe. And both locations were included in the exclusive VIGNA list of vineyards, through which the origin of single vineyard wines is guaranteed.

The attention with which Elena Walch harvests proves that her linearity is in the right direction. In addition, the general development has proven her correct when what is concerned, for instance, is sustainable work in the vineyard and in the wine cellar. "Our particular attention along those lines was always paid to the support of the vine's own self-defenses," says the pioneer from Termeno.

In the meantime, Walch has also transferred her philosophy to the next generation. Today, she runs the family estate winery along with her daughters, Julia and Karoline.

"With the finest terroir wines, we raised the quality standards of the region to a new level."
Elena Walch, head of the estate winery of the same name
Cultivated wines
Lagrein
Blauburgunder
Chardonnay
Weißburgunder
Gewürztraminer
Sauvignon Blanc
Merlot
Pinot Grigio
Cabernet Sauvignon
Easter – End of October:

Wine Shop in Tramin:
Every day from from 10 - 11.30 a.m. and 12.00 - 6.30 p.m.
In the winter season: daily 10:00 a.m. – 5:30 p.m.


Wine Shop Castel Ringberg
San Giuseppe al Lago 1
39052 Caldaro
Every day from from 10 - 11.30 a.m. and 12.00 - 6.30 p.m.
Closed Tuesdays
www.castelringberg.com

May – End of October: regular cellar visits and guided vineyard tours.

More details on www.elenawalch.com


Bistrot in Tramin (Via A. Hofer, 1) Every day 11.30 a.m. - 6.30 p.m. Ostaria Castel Ringberg (San Giuseppe al Lago, 1) Every day from 11.30 a.m. – 6.30 p.m. Closed onTuesdays
Vincerdetail.PartnerUS
USA Wine West, LLC