On Their Own for 40 Years
After careers in the wine sector, the Martini family is making their own wine
Anyone who has been passionately active in the wine sector for a long time wants to put their own stamp on wines at some point. That may be at their own risk, but in fact also with their own signature. That is precisely what the Martini family has done, and it was now more than forty years ago that the K. Martini & Sohn Winery in Cornaiano was brought to life.

The K in K. Martini & Sohn stands for the father Karl Martini, who founded the winery in 1979 with his son Gabriel, and specifically in the middle of their own vineyards in the winegrowing village of Cornaiano, which belongs to the community of Appiano. At that time, both father and son had already made their careers in the sector, so they brought along the necessary know-how and the experience regarding wine that was essential for their success.
In spite of that, the step to being on their own was not an easy one: "Building up the winery was a hard piece of work," Gabriel Martini recounts today. "We filled, sealed, and labeled the first bottles by hand."

Because they were well aware of their size (or lack thereof), they understood themselves at K. Martini & Sohn from the very beginning to be a small but fine operation that focuses not only on comprehensive and friendly service, but also above all else on quality. "That alone justifies the existence of a small family operation," says Martini.
In addition, it is built upon a palette of wines that is astonishingly large for a small operation which today comprises four lines and ranges from Pinot Blanc, Pinot Grigio, and Pinot Noir to Chardonnay, Sauvignon Blanc, Schiava, and Lagrein all the way to Yellow Muscat and Red Muscat.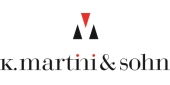 "Building up the winery was a hard piece of work. We filled, sealed, and labeled the first bottles by hand."
Gabriel Martini, the "son" in "K. Martini & Sohn"
Cultivated wines
Lagrein
Blauburgunder
Müller Thurgau
Rosenmuskateller
Chardonnay
Weißburgunder
Vernatsch
Gewürztraminer
Sauvignon Blanc
Goldmuskateller
Merlot
Pinot Grigio
Kerner
From June 20th to September

Monday - Friday 8 am - 6pm

Saturday 10am - 1pm


From October to June

Monday - Friday 8am - 12pm and 2 - 6pm

Saturday 10am - 1pm
On Wednesdays at 9.30am with reservation
Vincerdetail.PartnerUS
Martin Ulisse Imports