Kettmeir the nobilty of South Tyrolean wine.
(Also) A Question of Elegance
The Kettmeir Winery is among the pioneers of Alto Adige Sparkling Wine Production – Since 1964
The year 1964 is a special one in the history of the Kettmeir Winery in Caldaro. it is not the year of its founding (which goes back to 1919), but rather something like the year of its rebirth. After all, it was in 1964 that sparkling wines were discovered at Kettmeir. Since that time, they have not only become the most important pillar of the winery, they have also turned into a passion that extends down to the finest details.

The sparkling wines from Kettmeir have their origins on 55 hectares (136 acres) of estates of sixty winegrowers who supply the winery with the valuable raw materials: with Pinot Noir and Pinot Blanc, Chardonnay and Sauvignon Blanc, Red Muscat and Müller Thurgau. "Our suppliers cover elevations between 500 and 750 meters, and thus also a broad spectrum of climatic zones and soils" is the word from the Kettmeir Winery. "What results from this are the very fresh, fruity sparkling wines that are very much characterized by the terroir for which we are known."

With regard to vinification, in 1992 something along the lines of a Copernican revolution occurred at Kettmeir. Up until that time, sparkling wines had only been produced at an industrial scale. But at that point, the change was made to the classic méthode champenoise, that is, secondary fermentation in the bottle. The expenditures in labor thus rose enormously, but along with them, the quality of the sparkling wines and the image of the winery did as well. "The classic méthode champenoise may well be the most complex method, but it is also the most elegant" is the conviction at Kettmeir.
And in the end, that is also what it is all about with the production of Alto Adige pearls: elegance.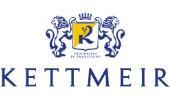 "As far as the production of sparkling wine is concerned, we are among the pioneers in Alto Adige and have made our contribution to reviving this tradition."
Cultivated wines
Lagrein
Blauburgunder
Müller Thurgau
Rosenmuskateller
Chardonnay
Weißburgunder
Vernatsch
Sekt
Gewürztraminer
Sauvignon Blanc
Riesling
Goldmuskateller
Pinot Grigio
Cabernet Sauvignon