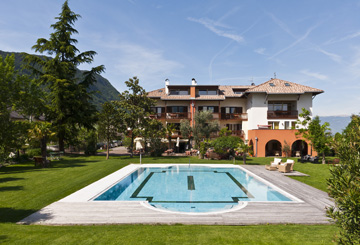 What Can be Made out of Grapes
Gentle work in both vineyard and winery
The Klosterhof in Caldaro is an estate winery, wine hotel, and small distillery all at the same time. So Oskar Andergassen and his son Hannes exhaust all of the possibilities of what can be done with grapes. And what is just as big is the care with which they look after their raw materials.

For the Andergassens, care means first and foremost respect for nature. And (above all else) in the vineyards that encompass 4.5 hectares, that means to deal with them gently. That also involves low yields which, as a pleasant aftereffect, also drives up the quality of the grapes.
The Klosterhof Estate Winery also continues respect and sustainability in the winery, in which only grapes from their own vineyards are used, where gently means, "We follow the philosophy of a soft pressing and allow the wine a lot of time to mature in large wooden barrels," explains the son, Hannes Andergassen.

The results of the care and prudence in the Klosterhof Estate Winery are 35,000 bottles per year of DOC quality wines – primarily Schiava, Pinot Blanc, and Pinot Noir. Since 2013, the Andergassens have also been making distilled spirits in their own distillery from the pressings of Pinot Noir and Yellow Muscat, but also from apricots and Williams pears.

The entire palette of what can be made from grapes can best be experienced by a visit to the winery. In so doing, not only do visitors get insight into the method of operation at the Klosterhof, they can also taste the terroir in and around Caldaro and also understand the great passion that the Andergassens have.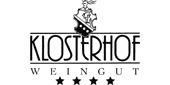 "We follow the philosophy of a soft pressing and allow the wine a lot of time to mature in large wooden barrels."
Hannes Andergassen, junior manager at the Klosterhof Estate Winery
Cultivated wines
Blauburgunder
Weißburgunder
Vernatsch
Goldmuskateller
Merlot
Vincerdetail.PartnerEN
Meraner Weinhaus