Four Whites with Character
Steep terraces, harsh climate, long tradition
Four white wines with strong character are made at the Kuenhof in Bressanone. The grapes for them originate from the steep terraces on the slopes of the Valle Isarco, and they are vinified in the historical cellar of the farmhouse that carries historical preservation with its roots dating far back. Very far back, in fact.

The Kuenhof was mentioned for the first time in a document as early as the twelfth century. At that time, like so many estates in the Valle Isarco, it was in the possession of the bishop of Bressanone. Over the past approximately 200 years, the Pilger family has been in charge of the Kuenhof, which little by little has been transformed into a winegrowing estate. They made the final, decisive step in 1990: since that time, the Kuenhof grapes have been made into the estate's own wine and marketed by them.

The basis for this continues to be offered by around six hectares of grape growing areas. The steep terraces have a southeastern exposure and lie at an elevation between 550 and 890 meters. "The climate here is harsh, but it is virtually ideal for our white wines," explains Peter Pilger, who manages the Kuenhof along with his wife Brigitte and their son Simon. "Our white wines" within that context consist of four: Sylvaner, Riesling, Veltliner, and Gewürztraminer.

"It is important to us that our wines are created out of the most balanced possible symbiosis between people, cultivated plants, and nature," Pilger says. Another part of this credo is winemaking with natural yeasts, through which the whites from the Kuenhof are long lasting and easily drinkable. "Long lasting" is certainly a good keyword – for an estate that is 800 years old.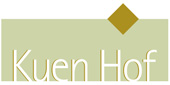 "It is important to us that our wines are created out of the most balanced possible symbiosis between people, cultivated plants, and nature."
Peter Pliger, winegrower at the Kuenhof
Cultivated wines
Veltliner
Gewürztraminer
Sylvaner
Riesling
Vincerdetail.PartnerEN
ENOTECA – VINUM
Harpf Getränkemarkt
Winestore Bozen
Hofer Market
Lisa Wineboutique
Boandes Graus - Ihr Getränkelieferant
Meraner Weinhaus
Vincerdetail.PartnerUS
Volio Vino Imports
RWK Imports
Oliver McCrum Wines
Estelle Imports
Petit Pois Corp. Sussex Wine Merchants
Meet our winegrowers
Character, passion and dedication for the wine