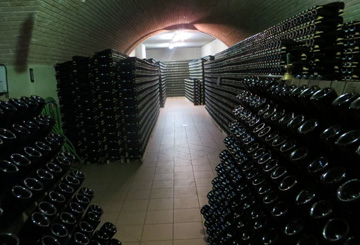 Full-bodied, Harmonious – or Simply: Sparkling Wine
Lorenz Martini builds on his family's passion: by producing sparkling wines
In the winegrowing village of Cornaiano, it's always appropriate to have passion for wine – but of course only if the passion has already been in the family. With Lorenz Martini, that is precisely the case. He earned his stripes in the family's own winery and then took the next step: to sparkling wine.

Within that context, it goes without saying that his many years of experience came in useful, and the fact that he had started from the very bottom up to learn to work with his hands. And from all of this it can be seen not least from the fact that Martini consistently focuses on quality. In his winery specializing in sparkling wines, grapes from Cornaiano, Appiano-Monte, and Cologna are processed. "In spite of the Mediterranean climate, these locations provide our sparkling wine with a pleasant freshness and an unmistakable aroma," Martini says.

To make the sparkling wine, he uses 30 percent Chardonnay, another 30 percent Pinot Blanc, and 40 percent Pinot Noir, with four vintages aging in his vaulted cellar at the same time. Because in the Lorenz Martini Winery dedicated to sparkling wines in Cornaiano, production is according to the classic méthode champenoise bottle fermentation, so the wine is on the yeast for three years. After that, it continues to age in the bottle, with each one being riddled by hand.

In that way, a sparkling wine is created which has been described by experts as "having a scent of fresh bread crust and honeycomb with light tones of citrus fruit" and "a good mouth-feel, full-bodied, and harmonious in taste."

Sparkling wine which, as can be read by this description, awakens the poet in us.

"In spite of the Mediterranean climate, the higher locations provide our sparkling wine with a pleasant freshness and an unmistakable aroma."
Lorenz Martini, head of the winery dedicated to sparkling wines of the same name
Monday - Friday 10am - 12pm / 4pm - 6pm
Saturday 10am - 12pm
Vincerdetail.PartnerEN
Originalitalia - Storie autentiche di eccellenze italiane