Wines with Aspirations, Beauty, and Grace
Twin brothers run an estate winery and a farmhouse inn
"Wasserer" is not the German word for someone who waters, but rather the name of a farm in Novale di Fiè which has a view of the southernmost end of the Valle Isarco. The Wassererhof in Fiè allo Sciliar is run by the twin brothers Christoph and Andreas Mock. Christoph takes care of the agriculture (and thus of winegrowing), while Andreas handles the cooking at their Buschenschank farmhouse inn.

The Wassererhof in Fiè was once called "Hof zu Wasser", meaning that it was close to a spring which promised sufficient water and thus fruitfulness. Built in 1366 by the lords of Lichtenstein, the historical farmhouse fell more and more into a state of disrepair until 1996 when, greatly in need of renovation, it was purchased by Franz Mock, the father of twin brothers.

Because the senior in Coste near Bolzano was running his own estate winery and Christoph had furthermore completed the Technical College of Agriculture, the decision was obvious to also turn the Wassererhof in Fiè into a winegrowing farmhouse. Since that time, Christoph has run it with determination, expert competence, energy, and a philosophy all his own. "Our goal is to create wines with aspirations, beauty, and grace," he says, "and flowing into this goal is all of our knowledge that has grown over generations and our passion for the vineyard and the cellar."

It is out of knowledge and passion that a product line has come into existence at the Wassererhof in Fiè that consists of Schiava, Sauvignon Blanc, Cabernet, and Pinot Blanc – wines, in fact, with aspirations, beauty, and grace.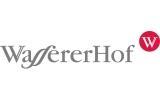 "Our goal is to create wines with aspirations, beauty, and grace. And flowing into this goal is all of our knowledge that has grown over generations and our passion for the vineyard and the winery."
Christoph Mock, winegrower at the Wassererhof
Cultivated wines
Weißburgunder
Vernatsch
Sauvignon Blanc
Cabernet Sauvignon
All year with previous communication request
Spring: Thursday & Friday from 6PM, Saturday & Sunday from 12 PM Autumn: Tuesday – Friday from 6PM, Saturday & Sunday from 12PM