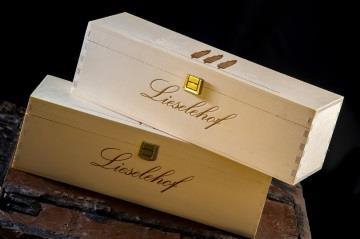 An Estate as an Homage to Love
The Lieselehof Estate Winery carries the nickname of the founder's wife
In the middle of the nineteenth century, when Franz Morandell built a farmhouse, he at the same time also immortalized his wife. Her name was Elisabeth, which in its loving nickname becomes "Lisele". Today, the Lieselehof Estate Winery in Caldaro is an imposing estate in which the winegrowing knowledge of three generations meets together and where Werner Morandell has the say. He is the great-grandson of "Lisele".

The fact that with this story, the Morandells inherited their passion for wine right from the cradle may sound like a platitude. Except that it is true. Werner's grandfather was a winegrower, while his father Gottlieb-Amadeus attended to the grafting of young grapevines and produced rootstock for surrounding vineyard nurseries.

Werner Morandell also thoroughly devoted himself to winegrowing. He even wrote a book about it and along with his vineyard, he is a contractual partner of the Freiburg in Breisgau State Viticultural Institute in Germany. Within that context, the main attention lies with fungus-resistant varieties, on the organic cultivation of traditional grape varieties (such as Schiava and Cabernet), and on wines that are made in an ecologically friendly manner. "That means that during the vinification, only a few natural treatment agents are permitted, and we completely do without synthetic materials," Morandell says.

The particular pride of the Morandells is wines that are made from exclusively fungus-resistant grapes for which no chemical herbicides are used in the vineyard and for which strict conditions are met for grape yields per vine. A separate brand name has even been developed for them: Green Mountain Wine.

"Making wine ecologically means that during the vinification, only a few natural treatment agents are permitted, and we completely do without synthetic materials."
Werner Morandell, winegrower at the Lieselehof Estate Winery