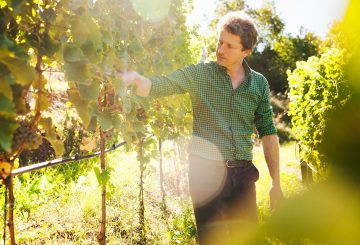 Eight Hectares, Eight Grape Varieties
At the Pacherhof, the heritage of a wine pioneer is nurtured
Eight hectares, eight grape varieties. Well, this correspondence may well be purely coincidental, but otherwise Andreas Huber at the Pacherhof in Novacella near Bressanone leaves little up to chance. Rather, what reigns here are competence, commitment, passion, and the heritage of wine pioneers.

One of them was Josef Huber, the grandfather of Andreas who runs the estate today. Both have wine in their blood, as the Hubers' Pacherhof in Novacella has existed since 1142. For his part, Grandpa Josef undertook quite a number of voyages of discovery on which he came across the knowledge that for the soils and steep slopes of the Valle Isarco, Sylvaner, Pinot Grigio, and Gewürztraminer would be the most suitable grape varieties. He was the first one to focus on Kerner, and today the assortment of wines from the Valle Isarco cannot be imagined without it.

But Andreas Huber does not follow in these admittedly big footsteps without preparation. He went and got educated at the Veitshöchheim winemaking school near Würzburg, Germany and today, with his competence and know-how, he sets the tone in the vineyard and winery.

Under Huber's leadership, dry wines are created today at the Pacherhof in Novacella with a prominent fruit and a definite mineral quality. "In order for the characteristics of the vines and the earth to be maintained, we focus on gentle processing and intentionally avoid maturation in small oak casks," explains the winegrower-slash-winemaker.

The legacy of his grandfather is therefore still alive today, even in the selection of varieties. So what grows at the Pacherhof in addition to Müller Thurgau, Grüner Veltliner, and Pinot Grigio are also Riesling and Sylvaner. And, of course, Kerner. In Grandpa's name.

"In order for the characteristics of the vines and the earth to be maintained, we focus on gentle processing and intentionally avoid maturation in small oak casks."
Andreas Huber, winegrower and winemaker at the Pacherhof
Cultivated wines
Veltliner
Müller Thurgau
Gewürztraminer
Sylvaner
Riesling
Pinot Grigio
Kerner
Daily 9am - 12pm and 2pm - 7pm
From mid-January to mid-March we are closed
On request and at least 6 people