In 2005 Andreas Sölva takes over the parental vineyard in "Kaltern/Caldaro"; Since 2007 he vinifies his own wines, as "Garage vintner and individualist" he´s aspiring to demonstrate the uniqueness and variety of the region around the lake Caldaro. He follows the evolution of the grapes, supporting the natural processes and focuses his work exclusively on quality. His goal is to
harvest them at their best state or ripeness. The vineyards are located in and around "Kaltern/Caldaro". The "Riegel Pulvernoa" (around 300m. a.s.l.) is planted with 80 to 100 year-old vine grape varieties of "Großand Mittervernatsch" and part of it is planted with Cabernet Franc and Tannat. On the "Riegel Barleit" (around 400m. a.s.l.) I am cultivating exclusively "Weissburgunder"
(pinot Blanc). The third site (around 420m. a.s.l.) lies in the district of "Oberplanitzing" and since 2008 it is planted with "Riesling".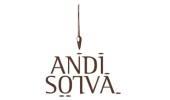 Cultivated wines
Weißburgunder
Vernatsch
Riesling