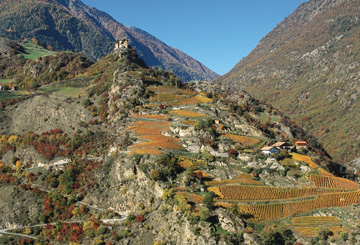 One Estate, Three Heads
Reinhold Messner's estate winery in the Val Venosta
An estate winery also lives from strong personalities. The Castel Juval Unterortl Estate Winery in Castelbello at the entrance to the Val Senales has three at the same time: the king of mountain climbing, Reinhold Messner, is the owner, and Gisela and Martin Aurich run it as tenants. Three heads for one estate winery, so to speak.

While Reinhold Messner most likely needs no further introduction, in the context of his estate winery it is worthwhile to take a closer look at the Aurichs. They have dedicated themselves to wine and distilled spirits since 1992. In the Castel Juval Unterortl Estate Winery, they are responsible for 30,000 bottles that are produced here year after year: Müller Thurgau, Riesling, Pinot Blanc, and Pinot Noir, whose very particular character is passionately looked after by the Aurichs. As their credo goes, in the end it should be possible to taste the characteristics of the grape variety, the soil, and the microclimate.

Their newest child is a rosé, with the description of which Martin Aurich waxes eloquently, "Our Pinot Noir rosé is salmon-colored, stimulating, and multifacetedly fruity, its flavor is seductively full and lasting," says the winegrower, who has taken under his wing the production not only of wine, but also of grappa at the Castel Juval Unterortl Estate Distillery.

With Martin and Gisela Aurich, the threads are woven together of the Castel Juval Unterortl Estate Winery and Estate Distillery. In the castle, they are the winegrowers and distillers of the king. The king of mountain climbing, but a king nevertheless.
"Our Pinot Noir rosé is salmon-colored, stimulating, and multifacetedly fruity, its flavor is seductively full and lasting."
Martin Aurich, winegrower at the Castel Juval Unterortl Estate Winery
Cultivated wines
Blauburgunder
Müller Thurgau
Weißburgunder
Riesling
Monday - Saturday 9am - 12pm / 2pm - 6pm